The 2021 Subaru Love Promise Customer and Community Commitment Award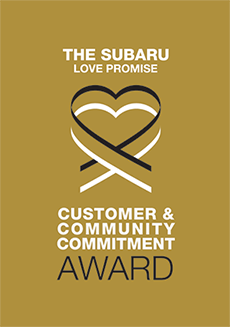 We've been nationally recognized for our dedication to our customers, our community, and the Subaru Love Promise.
We're honored to receive the 2021 Subaru Love Promise Customer and Community Commitment Award. This award nationally recognizes elite Subaru retailers who provide an exceptional customer experience at every interaction with Subaru. These retailers have also demonstrated an outstanding commitment to supporting passions and causes in their local communities in important areas such as the environment, community, health, education, and pets.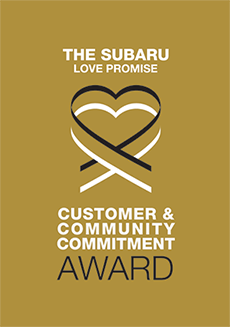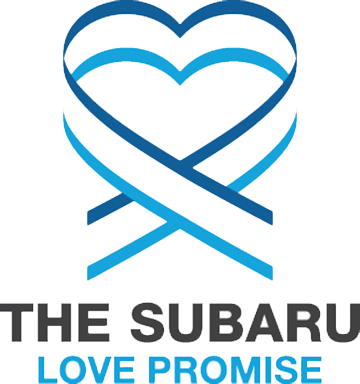 What is the Subaru Love Promise?
Subaru and our retailers believe in making the world a better place and the Subaru Love Promise is our vision of respecting all people. This is our commitment to show love and respect to our customers and to work to make a positive impact in the world.
How is Beyer Subaru dedicated locally to the Love Promise?
At Beyer Subaru we augment excellent sales and service with a genuine commitment to connecting our Subaru customers to the outdoor life - hiking, climbing, biking, kayaking, and so much more. Our working motto - The Great Outdoors - is also our guiding premise: Subaru cars and Subaru values reinforce our love of nature and our desire to enjoy our environment fully. Integrity-Community-World Class Service-Family Community - we must be an integral part of the society in which we live. We take responsibility to lead and to serve, from the National Campaign to Prevent Teen Pregnancy, to our on-going partnerships with Meals on Wheels, Senior Services of Alexandria, United Community Ministries, to Virginia's largest high school dropout prevention program. The people of Beyer Subaru must act - if we do not, then who will? You have our Love Promise, Beyer Subaru will. Love Promise can be seen in various partnerships with local charities and non-profits. We're grateful for the opportunity, not only to be a part of our community, but to serve it as well.
United Community Ministries, Senior Services of Alexandria, Meals On Wheels, NAIM , Groveton Elementary School
Ntl. Teen Pregnancy Prevention
Love Promise Stories from Beyer Subaru
Subaru and Beyer Subaru believe in making a positive impact on the communities in which we live and work. We uphold that belief through our Love Promise Community Commitment. Every month, we select inspiring stories from customers and partners from around our area who strive to support our collective commitment and feature them here
Shiniest Star of them All - Beth D
Hi Jordy, My name is Libby Cahill. I'm the cousin of Beth Dougherty and a good friend of Debbie Doak. This is just a token of gratitude for what you and your dealership have done to help my cousin Beth. The ripple effect of this gesture can't be understated. As a single mother her struggles are huge. Her teenage daughters are directly benefitting as are her siblings and myself as extended family. The Doak family is one of the most generous folks around so for a small conversation about trying problem solve my cousins dilemma to translate into Dan calling you because she bought the car there, into the amazing story it has turned into- well, mind boggling to say the least. We have three Subarus in my family. I know the brand has the angle of great outdoors, camping and of course dogs. But the human angle is the shiniest star of them all. Thank you from the bottom of many hearts Libby
---
Letter of Appreciation - Jim J
Dear Jordy, This is a letter of appreciation for your support in sponsoring and the many contributions you made to the Woodbridge Lions Club 13th Annual Golf Tournament which was held at Forest Green Golf Club on September 18. Besides making the hole-in-on prize available, your donation of silent auction prizes in the form of detailing packages, your return of prize money and the participation of the members of your staff is much appreciated. Your contributions truly helped to make this a very successful tournament. This event, our major annual fund-raiser, provides much needed funds for our club to provide services to our community. The entire proceeds of the tournament will be directed to our projects, with emphasis on sight screening of school-age and pre-school children and providing eye exams and eyeglasses to needy residents. Your generous support is a major factor in making this work possible. Sincerely, Jim Jolly Golf Chairman Lions Club of Woodbridge Charities, INC.
---
Beyer Subaru and Together We Bake - Lucy v
Together We Bake's mission is to provide a comprehensive workforce training and personal development program to help women gain self-confidence, transferable workforce skills, and invaluable hands-on experience which will allow them to find sustainable employment and move toward self-sufficiency. The program revolves around a social enterprise, a small baking business in Old Town Alexandria. The purpose of the program is to empower women facing barriers to employment to achieve long-term self-sufficiency, not in spite of the challenges in their past, but because of the strength they have gained by persevering through those difficulties. Program participants, called "Team Members," gain workforce and soft skills that help them obtain and maintain employment. With the support of staff members, Team Members learn and practice strategies that address chronic substance use and trauma histories, as well as mental health issues. By learning to manage these challenges, Team Members experience improved well-being and stability. TWB is proud to partner with Beyer Subaru for its "Share the Love" campaign. Since 2018, Beyer Subaru has donated over $50,000 to TWB and changed the lives of women in our community. TWB will continue to grow this year and deepen our support of women in need by piloting a Spanish-speaking cohort and adding a Digital Literacy component to the existing program.
---
Wonderful Sales Experience - Mark T
We worked with a tremendous young man named Miguel Castro who represented your family name and business extremely well. I wanted to personally reach out to let you know how impressed we were with him! Professional, knowledgeable, smart, courteous, responsive, genuinely kind and respectful…and the list of positive attributes go on! You can tell he has a good heart with impeccable integrity and character. I think he is in his early 20s, but certainly mature beyond his years. Thanks for employing such a great young man! We certainly appreciated working with Miguel!
---
July 16th - big delivery! - Jessica A
Beyer Subaru – 07.16.19 1pmArriving at Inova Fairfax Children's wing is always heartwarming. The hospital boasts a colorful playground out front, and large crayons and colorful caterpillars dot the wall. On this day, the oppressive D.C. heat kept families indoors, but the scene was cheerful nonetheless. Taylor, the hospital Community Coordinator, and I waited for Beyer in the lobby and she expressed just how much the patients and families appreciate the blankets – "they're a real touch of home for the families, and they light up when we deliver them". I told her that I was excited to share that with the Beyer folks and then they arrived – in spades! This was the largest gathering of Subaru folks I'd seen, and even though we were unable to actually deliver the blankets (INova staff and interns took care of that), it was great to have Taylor share the reactions with such a large group of Subaru supporters. We posed for a quick photo, and then I was able to share a story of a family who received a blanket two years ago and that even now, out of treatment, it is a treasured possession.
---
Beyer Subaru Supports Together We Bake - Elizabeth B
Together We Bake is a small, local Alexandria non-profit organization. We are a comprehensive workforce training and personal development program for women in need of a second chance. We help women gain self-confidence, transferable workforce skills, and invaluable hands-on experience, which will allow them to find employment and move toward self-sufficiency. Our women are in need of a second chance; they are in need of job-training, are new to this country, or in many cases, have been recently incarcerated. We go above and beyond by not only provided workforce training and certifications but also provide real, long-term emotional and workforce support and coaching. As a result, our recidivism rate is 8% compared to the national rate of 70%. Beyer Subaru has been our Champion through yearly sponsorships and support of our program as well as a local voice promoting our organization. This year, Beyer Subaru chose TWB to be their Share the Love local recipient. We spent time educating their workforce about our program and outcomes. Their staff became huge advocates for us and did a wonderful job promoting and educating their customers about our organization. Not only will we benefit from the Share the Love funds - almost $25,000 - which change the lives of 8 women (!), but we have also gained new support and new volunteers in the community thanks to their voice. We look forward to a very fruitful, long-term partnership with Beyer Subaru and are so grateful to Jordy Coho, Tom Roe, and their team. Thank you!
---
Meals on Wheels - Jordy C
Beyer Subaru has been a longtime sponsor of Senior Services of Alexandria, running a monthly route of Meals on Wheels. This invaluable service provides warm meals to seniors who are unable to leave their homes to shop for groceries. Steve Haywood and Nicole Izes have been spearheading this important endeavor for the last five years. This year Beyer Subaru also donated blankets for the recipients of Meals on Wheels. This donation was done through a service campaign where customers could elect to have a free blanket donated to Senior Services of Alexandria.
---
Thank You Beyer Subaru for Sharing Hope & Warmth! - Jenny H
Beyer Subaru arrived at INOVA Fairfax Children's Hospital on Wednesday, July 25th excited and ready to make a difference for pediatric oncology patients! The LLS and INOVA Fairfax staff were waiting to help unload the dozens of blankets. After getting everything unloaded into the hospital there was a palpable excitement as we got ready to take the picture. And we got some great ones! The INOVA Fairfax team took a few minutes to share the impact of patients receiving the blanket donations from Beyer Subaru. They shared that the kids absolutely love them and the fabric of the blankets are just right in keeping patients warm but not too hot. The Beyer Subaru team left knowing that they made a significant impact on some of the youngest cancer patients at the hospital.
---
Beyer Subaru Loves to Care! - Jenny H
On July 21st Beyer Subaru visited the INOVA Fairfax Children's Hospital to deliver 80 blankets, 10 arts and crafts kits, and messages of hope for pediatric patients. INOVA's child life specialists, Holly and Jamie took some time to chat with LLS Honored Hero, Michael Erlandson, who came with his mom to support LLS. The NCA Chapter is fortunate that the Erlandson family continues to be actively involved in numerous campaigns throughout the year. We asked Michael's mom, Sandi, why she came out to support LLS and Subaru and she explained, "I refuse to let our family to be synonymous with our son's diagnosis. I know there is so much more than that. That's why we are always looking for ways to give back, especially with LLS. No one is doing more to cure blood cancers than they are, and that is something our family wants to be a part of." Holly later shared with us that the blankets would get great use on her floor and how excited she was to hand them to patients. She said that the arts and craft kits were also going to be a big hit with the pediatric patients, with such a great variety of crayons and paint, they would be able to work on so many more projects. Danielle Czelusta told us, "We are so grateful for the blankets and art kits that will be well utilized by our patients." All of the INOVA Fairfax staff were grateful and impressed by Subaru's generosity.
---
Subaru and NWF Love the Earth! - Beth R
We are so excited to come back in the fall and see how our garden has bloomed! Thank you for the donation!
---